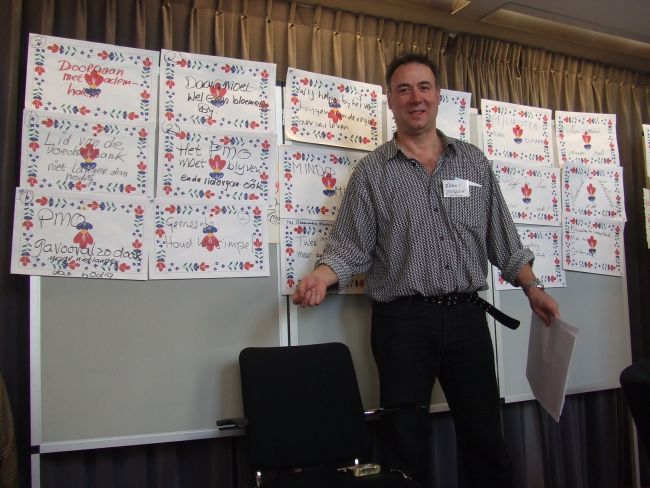 Curriculum Vitae Franc Josquin
• Born and raised in Maastricht, active in scouting and music.
*  Studied I/O psychology and ergonomy at Tilburg University.
• Dutch Steelcompany (nowadays TATA Steel), technical psychologist, full-time involved in innovation projects.
• A milestone was carrying out the knowledge seminars concerning Japan for 40 employees and being one of the groupleaders during a month training at the Nippon Steel Company.
• Manager of the corporate staff department communication policy, supporting the board.
• Organisation consultant/trainer at the Socio-Technical Group.
• Furthermore I have organised 5 conferences, all of which were visited by 20 companies.
In 1999, Franc founded Josquin Consultancy. In the next years up until now, his company worked with the following companies:
NS Internationaal
Corus Strip IJmuiden
Corus Packaging Plus
Amarant Praktische GezinsOndersteuning
Ministerie van Binnenlandse zaken
NedTrain B.V.
Ematech Utrecht
Heineken Nederland
Heineken International
BAM Rail Services
Provincies Friesland-Gelderland-Utrecht
Essent Milieu
ProRail
ABP / Pension Fund
Diaconaal Centrum Stem in de Stad Haarlem
BEWO BV, Automatic Sawing Lines
DYNA SEAL Integrated Loading Bay Systems, HÖRMANN
Verebus Engineering
Platform Minima Organisaties, Haarlem en regio
Gemeente Haarlem
Zuidzorg
Toyota Material Handling
Drechtsteden
Gemeente Maastricht